Zineb Haida - August 2022 Shero
SHERO of the Month: Congratulations Zineb, Everett, MA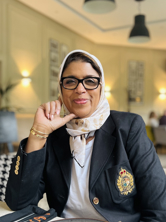 Daycare provider and business owner Zineb Haida is a multifaceted mother and educator. As a single mother who raised a doctor and a current college student, her journey was never easy. She started her daycare 28 years ago after struggling to find a place to leave her newborn daughter while working 3 jobs simultaneously. She began her journey into early childcare during a period where resources and mentors weren't readily accessible. After studying the requirements needed to open her business and pursuing the education needed, she later became a resource, more specifically to single mothers and minorities, in her community of Everett. She is well known in her community and field of business. Her door is known to always be open to those who need help and need a helping hand.
With almost 30 years of experience, she is still always seeking to build her knowledge in Early Childhood Care and learn updated methods of teaching. There are so many stories about how Zineb goes above and beyond to care for families and children in her community. She is incredibly knowledgeable in child development and is an extremely loving and nurturing caretaker. Not only does she take care of babies, she also offers a preschool program which prepares kids for kindergarten.

Zineb not only teaches a standard curriculum such as reading, math, and science, but she also intentionally teaches about diverse cultures and acceptance. Zineb brings culture to her classroom and exposes children to traditions all around the world.

She is a leader within her childcare community. She provides a safe, warm and loving, educational, and creative environment for them. Her commitment to quality child care prepares them for elementary school and helps to make them responsible, respectful, inquisitive, and kind individuals. Her consistent motivation to improve and stay involved is truly admirable.