Celia Riahi - July 2022 Shero
SHERO of the Month: Congratulations Celia Riahi, Amherst, MA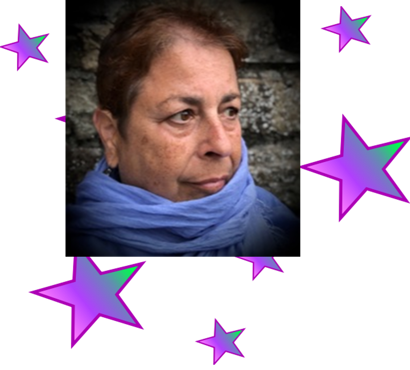 How long have you been in the early childhood field?  45 years
What inspired you to become a Family Childcare Educator/Entrepreneur?  "I am an entrepreneur at heart. I love being my own boss. I also sell my crafts and woolen clothing for children to support our program. I think children under 4 should be in small cozy settings."
What are you most passionate about in your work? "Keeping wonder and awe alive for the little ones so they can have access to it in themselves when they are older."
How did the Shared Services Business Workshops help you with your business?  "It helped me become even more organized with the financial part of my business."
Tell us your story:  My "calling" in life, my vocation, is caring for young children. I lost my mother when I was 8 years old and that has had the biggest impact on my life. First caring for my 2 younger siblings and then babysitting, nannying, it was just a natural progression. I was a nanny for a wonderful family when I was 16. They took me to Long Island where I cared for their 2 children and held "art classes" for all the kids in the surrounding summer houses. I lived with them in NYC and traveled to Europe with them. They are in their 80's now and their children are married with children and we all still get together and talk and visit. I was part of their family, and it saved my life.
I knew I wanted to care for, teach, and just be with little children. No matter what else I tried, office job, jeweler, crafts, I always returned to children. I opened my first Home Day Care in NYC, The Other Mother, when my daughter was 13 months old. I was one of the first to get licensed back then. I even taught workshops at the YMHA; how to start your own FCC, record keeping and taxes, storytelling, and painting with children. I even have a movie that was made of my program, and I was featured on one of cable TV's first programs on the subject, called Working Mother. We also had a support group, there were about 10 of us doing FCC in Manhattan and we met once a month in one of our homes. It was fun and wonderful, and we shared so many things. I did that for 10 years and then went on to teach kindergarten in The Rudolf Steiner School, in Manhattan. I was a single mom by then and decided to get my bachelor's degree. I attended Empire State College and on my 40th birthday, 4 years later I received my Bachelor of Science Degree, in Early Childhood Education. I also have 5 credits towards my Masters. I have been a student of Waldorf Education for 46 years now and that is what influences my teaching and my knowledge of the young child. I have also learned about Emmi Pikler's work, in the USA it is also known as The RIE work, Resources for Infant Educators, and that also has influenced my caring for children.
I am 70 years old and I still love my work. I have had The Cottage Garden for 13 years now. I run it with my wife of 30 years, out of our home in Amherst, MA. I cannot imagine a life without children playing around me, listening to my stories, and singing with me. I will continue as long as I am able.
The Cottage Garden
Thank you for this opportunity to share story. Being an educator has opened so many doors in my life!